Artist name:

Henry Raeburn

Artist date(s): 1756-1823
Artist nationality: Scottish

Artwork title:

Portrait of Lieutenant General Hay Macdowall

Artwork date(s): c.1791-1793
Artwork type: Painting
Medium: oil on canvas
Measurements: 2390x1525
Keywords: full-length standing portrait; miliary uniform; landscape; sword

Reference ID: 1589


Click the image to enlarge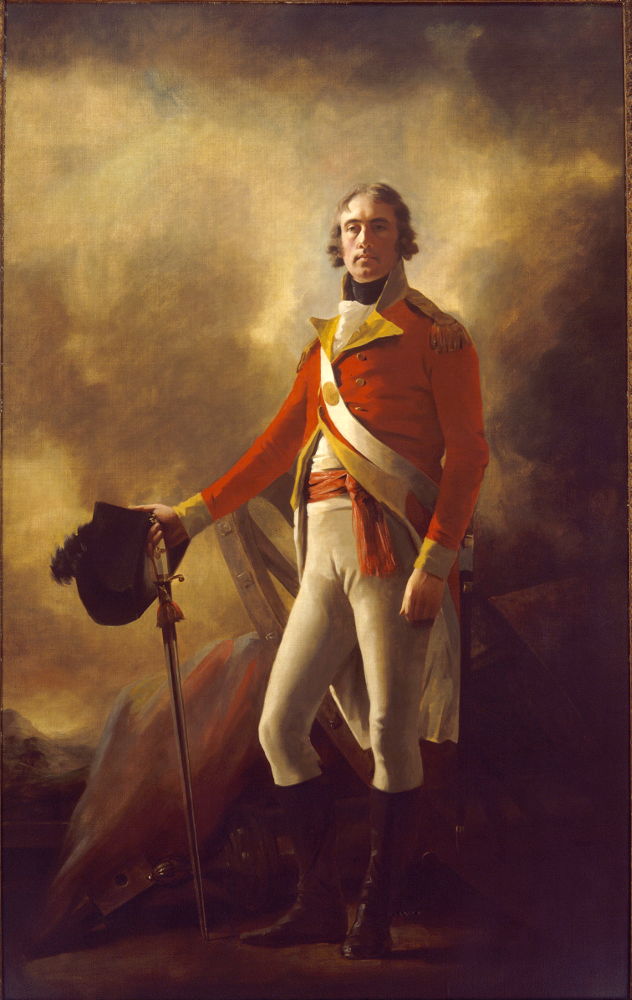 More information
The uniform worn by Hay Macdowall in this portrait dates it between 1791 and 1795. A few years later, Macdowall was serving as Head of the Madras Army (1807-9), where he was neither popular nor very successful. At the end of this unhappy period, returning to England, he was drowned when the Lady Jane Dundas, the ship on which he was travelling, was wrecked off the Cape coast.
Two near-identical versions of this portrait were produced by the artist, probably simultaneously (see Originals and Copies). One was presented to Macdowall's friend, David Erskine of Cardross [1600], the other hung at Garthland, the Macdowall family seat.
The Garthland version (unless there are three versions of this work) was probably the one sold at Christie's in 1919, and last recorded as in the collection of George Eastman House Inc., New York (on loan to Rochester University, New York). The Bailey version is the one from the Cardross collection (as a label on the back indicates). It was still in the Cardross family in the early 20th century, but was in the hands of the dealers Leggatt Bros in the early 1930s and probably passed into the Bailey collection at this time. Apart from painted copies, an engraving was produced, by Macbeth Raeburn. This is recorded as having been exhibited at the Royal Academy in 1927.